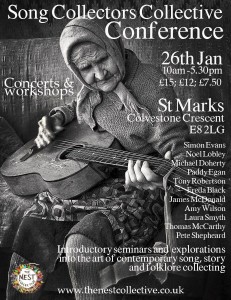 FILMS OF THE SEMINARS
A BEGINNER'S GUIDE TO TRADITIONAL FOLK BALLADS OF BRITAIN AND IRELAND
James McDonald
MAKING A COLLECTION THAT LASTS
Paddy Egan, Laura Smyth, Amy Wilson
AN INTRODUCTION TO GYPSY TRAVELLER COMMUNITIES
Michael Doherty and Simon Evans + Lisa Knapp
CONFERENCE AGENDA AND SCHEDULE
++++++++++++++++++++++++++++++++++++++++++++++++++++++++++++++
Song Collectors Collective Conference
26th January 2013 10am-17.30pm : St Marks, Dalston, London
www.songcollectorscollective.co.uk
www.thenestcollective.co.uk
Thank you for coming today to this first day of collecting workshops, below is the full line up of offerings. If you can please take the time to fill in the feedback on the reverse of this sheet and do also sign up to our circulars letting you know what is happening at the SCC. There are also ways that you can get involved with the project at many levels. If you would like to find out more please ask at the desk or Sam or James and we can tell you more.
10am Registration
10.30am Opening Panel introduction by Sam Lee and panel members
11.30- 12.30  Session 1a James McDonald
Beginners guide to British and Irish folk song, stories and lore; Working in the field for the first time.
11.30- 12.30  Session 1b Paddy Egan + Amy Wilson + Laura Smyth
Making a collection that lasts : examples of disseminating material via digital platforms. Building context around recordings after they have been made.
12.35 – 13.35 Session 2a Peter Shepherd + Noel Lobley
A song collector's journey; stories of a seasoned collector. Good practises and bad practise in collecting; techniques, equipment and practical tips
12.35 – 13.35 Session 2b Michael Doherty + Simon Evans
An introduction to Gypsy and Traveller communities, myth busting, misinformation and understanding of the cultures and histories of UK Gypsies, Irish Travellers and Scots Travellers.
13.35 – 14.30 Lunch break : Available in Lower hall or on high street
14.30 – 15.30 Session 3 Freda Black
The Life, songs and stories of a 85 year old Romany Gypsy; in interview with Sam Lee.
15.30 – 16.00 Tea break – chance for an informal plenary session with James McDonald
16.00 – 17.30 Concert Featuring songs and tunes from Freda Black, Tony Robertson' Thomas McCarthy Peter Shepherd and Paddy Egan
SCC Feedback
---
It's lovely to hear songs, learn of alder-cockles and see so many enthusiastic people.
'We came, and drank together from the cool crystal spring of British song.'
As genuine and exciting as it gets. Pure British song, rare and beautiful.
So glad it was so successful – interesting in the extreme.
Nice soup!
A brilliant day. If I can sing half as well as Freda when I'm 80+, I'll consider myself a singer!
Great talks. Lovely lunch. Loved the interview with Freda – would love a two/three-day conference. More of it…
I agree: what a rich seam to mine. Had so many questions. Loved it. Hope to be able to contribute something to the site.
Good to see so many people from a broad range of interests and backgrounds coming together for this. Warm and friendly occasion.
A very enjoyable and interesting day. Brilliant to learn about new things and meet people from such diverse backgrounds, who all share this passion for music and stories in all their forms.
Absolutely brilliant – a rare glimpse and sensitively approached. Learned a lot. Tea stocks low though!
Fascinating day – it's a shame we had to choose between talks each session.
Ditto the above. Looking forward to seeing the other sessions' recordings. Very inspiring, of songs and exploration but also of asking questions of family, regarding those I meet as storied beings rich in knowledge with much mutual pleasure in sharing. Big thanks for organising.
Brilliant day – good company, good songs. Great to see so many and so much interest.
Moving and inspiring. Enjoyed the history of the travelling people. Thanks.
Excellent – lots of ideas and good stuff coming out for the way forward.
I am in love with Freda, and so inspired! I will go forward with the energy from today – thank you